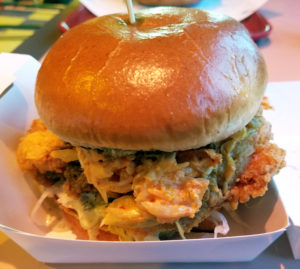 The Madison Blind somehow survived two years on the top floor of the Graduate Hotel despite seemingly little dining traffic. Its replacement, Camp Trippalindee, is basically a do-over, with a completely different interior and a more down-to-earth menu.
On the former point, the all-white decor has been replaced with an up north-feel, plaid upholstery and board games–heck, you can even roast marshmallows in the patio area. On the latter point, items such as the winter whitefish have been replaced with items such as the beer brat. The question is: will the changes be enough to increase business?
I didn't try the brat, but I did order the loaded hot dog ($5). It comes on a hard, toasted bun, which I assume was done to better hold together all the toppings, but I would have preferred a soft bun. The chili is incredible, with good seasoning and a hint of heat. The hot dog is thin but has a lot of snap, which contrasts nicely with the creamy avocado.
I was tempted to order a cheeseburger, but I opted for the crispy spicy chicken sandwich ($9) instead. The bun is super buttery, the chicken is crispy on the outside and tender on the inside, there's just enough bacon that you can detect it and the kimchee slaw is crunchy and slightly sour. However, despite the quality of these components, something was off about the sandwich, and I think it was the ranch sauce.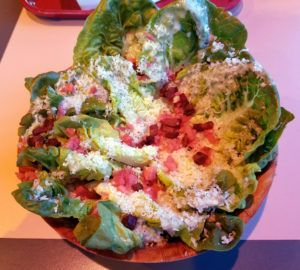 A couple of items in the "greens & other shared grub" portion of the menu caught my eye. The grilled BBQ spiced chicken wings ($8) are incredibly meaty. The grilled flavor is dominant; I wish there was more than just a drizzle of the deliciously tangy, Alabama-style white BBQ sauce. Warning: these wings take a long time to cook–mine came out after 30 min.–because they are freshly prepared.
The little gem salad ($9) was a pleasant surprise. The pickled radish and bacon are chopped into bits and sprinkled over romaine lettuce. With finely shredded parmesan cheese on top, you basically have a sour and salty version of a Caesar salad.
The bar features a few specialty cocktails. The Moscow Donkey ($9) is sweet and limey, dulling the ginger flavor. Use the straw, because the tin can in which the drink (and water) is served has a strong metallic taste.
Camp Trippalindee is open for dinner every day and lunch on the weekends.
***
See more photos in our Camp Trippalindee Flickr album.