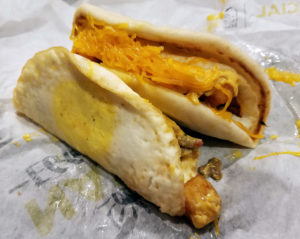 I thought I would be immune to being surprised by Taco Bell, but its Naked Egg Taco ($1.99) was a bit of a shocker. Yes, the shell is made up entirely of a fried egg, and I can't believe how much I enjoyed it. It's a little greasy to the touch, which is why it comes in a carton sleeve. Inside you'll find seasoned potatoes, shredded cheese, nacho cheese and your choice of bacon or sausage (you'll get a generous portion of each).
I guess the main benefit of this taco is that you omit the carbs from the tortilla shell. For example, if you order the Naked Egg Taco with sausage, it has only 9 g. of carbs, yet oddly it's only got 11 g. of protein.
Taco Bell also has an alternate version of this taco called the Dressed Egg Taco ($1.99), which is the Naked Egg Taco wrapped in flatbread. I also liked this taco, as the flatbread made it a little bit more hearty. The nacho cheese in these tacos added depth to the flavor (weird of me to say this, I know).
Both tacos are available for a limited time.
***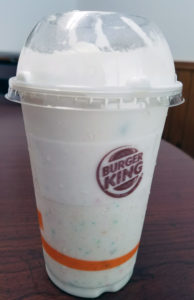 Lucky Charms or Froot Loops? I ended up choosing the latter for my shake ($3.69) at Burger King. The flavor is surprisingly good, as you get the creaminess of the vanilla shake itself alongside the sweetness of the Froot Loops. However, the grounded pieces of Froot Loops were super soggy inside the shake.
In case you wanted to know, the shake is 720 calories, with 126 g. of carbs.
Burger King is offering a couple of limited-time chicken sandwiches, too. I selected the crispy chicken parmesan sandwich ($5.09) over the buffalo chicken sandwich. There's just the right amount of marinara sauce so that it's not dripping out the sides. The shredded pieces of Parmesan weren't as melty as they should have been, but overall it was a satisfying sandwich.
Tags: fast food