La Nopalera replaced the Subway on Schroeder Road. Despite the big space, it's got a small, mom-and-pop feel, with a concise menu and a grocery section limited to a few perishables and non-perishables.
An item you typically don't see on menus is the sincronizada ($5.95), which is a mouthful to say and a mouthful to eat. Ham, cheese, tomatoes, avocados and jalapenos or chipotle sauce are pressed between two flour tortillas. It's tasty, but I would have preferred the contents to be a bit warmer.
Street corn seems to be growing in popularity in Madison, and this version ($2.95) is fresh and delightful. The corn is mixed with a huge dollop of mayo, crumbles of cheese, lime juice and tajin seasoning.
The Mexican BLTA ($5.95) adds avocado and jalapenos to the classic. The ingredients were very fresh (e.g. the avocado is sliced just for this sandwich), and torta was used instead of toast, a nice touch.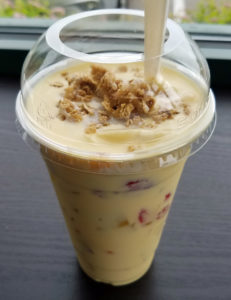 Other items include salads ($5.95) and hot dogs ($2.95).
Come for breakfast sometime. The yogurt ($5.95 for 16 oz., $6.35 for 20 oz, $6.95 for 24 oz) is blended with your choice of fresh mango, peach or strawberry, then topped with banana, apple, strawberry, mango and granola. The mango version I had was full of flavor and contrasting textures, but the yogurt melted quickly and was basically soup after five min.
La Nopalera is open every day for breakfast, lunch and dinner.
***
See more photos in our La Nopalera Flickr album.