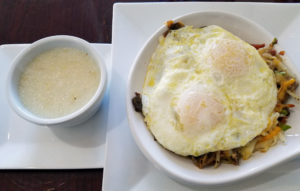 Lola's Cafe is a small but uncozy diner that opened quietly this summer. I only noticed it because I was having lunch at Gloria's, which is in the same strip mall on the far west side.
The restaurant in the space formerly occupied by Capriotti's has a large, two-sided menu that has about 80 percent breakfast items, and the rest being sandwiches and salads. However, if you inspect the menu closely, you'll see it's mostly the same few items repurposed in different formats.
For example, there's not much difference among the omelets, frittatas and scrambles here. I chose my frittata with kale, goat cheese and red peppers, and a similar version exists as a scramble. This frittata was very fresh tasting and pleasing to the eye, but it was bland enough that I had to add salt and pepper to get through it.
I also ordered a skillet dish. The ultimate ($9) is best described as hearty. The onions, mushrooms and green peppers are lightly sauteed, and there's plenty of chopped bacon, ham and sausage. They are all resting atop hash browns that I would have preferred to be crispier.
I'm a sucker for grits, since you don't see them on many menus in the Midwest. Lola's version is solid enough that it holds together when you use a fork; in other words, I appreciate that they weren't soupy. The biscuit, another side, is crumbly but dry, so get some jam or butter.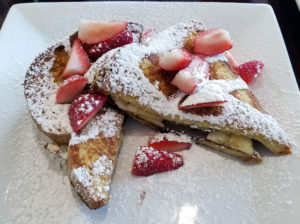 As expected at a diner, you'll find pancakes and French toast on the menu.
French toast comes in two ("short") or three ("full") pieces. The ones in the banana, strawberry + Nutella ($7 for two, $8.5 for three) were flat, not fluffy, but they had a good eggy and buttery flavor. You get plenty of fresh strawberries and bananas but only a small smear of Nutella.
In case you don't want breakfast items, you will find a few traditional American lunch items such as a burger and chicken sandwich. I was craving a Philly cheese steak at the time, and Lola's version ($8.50) didn't disappoint. The bun was soft but firm enough to hold the contents, the diced onions and peppers were cooked through, the right amount of cheese whiz was slathered on and the steak was tender.
Lola's Café is open every day for breakfast and lunch.
***
See more photos in our Lola's Cafe Flickr album.