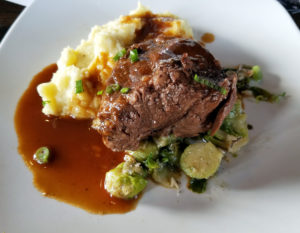 Even though 4 Sisters Tapas Restaurant is a different concept from neighboring Verona Woods and Sugar River Pizza, it doesn't seem to be as busy as those two. After three visits, I am guessing it's because of the imperfections of many dishes.
For example, the short rib risotto ($21) has a good flavor and is helped by the au jus, but the short rib was slightly tough. Also, the price is a bit steep, especially considering a similarly sized portion at Graft costs $13.
At least the seafood paella ($23) is more filling. It's not at all dry, to the point that the paella is sort of soupy. You get a decent amount of mussels but not quite enough of the perfectly cooked shrimp.
A special on one evening was duck breast, which was tender, not too gamy and complemented by the sweet blueberry sauce. Yum! It went well with the buttery polenta. Unfortunately, the dish was marred by the baby carrots, most of which were undercooked.
In the portobello Napoleon ($11), you'll find firm but tender mushrooms in a crunchy breading, topped with a sweet raspberry balsamic glaze, creamy mozzarella and spinach. All the components were tasty, but together they made the dish too rich. Other tapas include crab cake ($13), carpaccio ($14) and a cheese board (market price).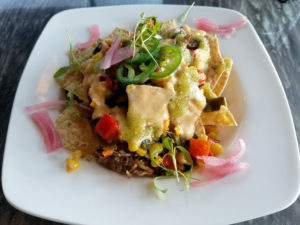 The restaurant has a fairly large bar area, a nice place for happy hour. Among the bar foods, I chose the visually appealing duck confit nachos ($13). The smoked Gouda chipotle cheese is creamy deliciousness, but you only get a slight drizzle of it. The corn salsa is robust in flavor, and you receive a fair amount of duck. What's the flaw in this dish? It's the chips, which are just horrible. In fact, they make some generic brand chips taste good.
The cocktail menu is sizeable. The Redemption old fashioned ($7) is well-crafted, with the right amount of bitters and actual muddled sugar and orange. Meanwhile, the New York sour ($9) is a unique drink. If you sip it without a straw, all you taste is the pinot noir floating on top. If you use a straw, you taste the bourbon at the bottom. I found the CBL gimlet ($8) refreshing, and I appreciated how stiff it was.
4 Sisters Tapas Restaurant serves dinner Monday-Saturday.
***
See more photos in our 4 Sisters Tapas Restaurant Flickr album.