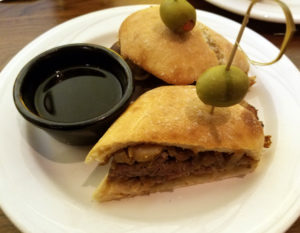 The remodeling of the Park Hotel (formerly Inn on the Park) included revamping its restaurant called Jerome's into The Post. Looks can be deceiving, though, as the appealing space doesn't have the food to match.
My first visit was early in the year, when I was told by a server that the menu was going to be completely redone. On my subsequent visits, however, the menu looks almost the same as before.
Formerly known as the Park Hotel, the now generically named pub steak sandwich has increased from $9 to $12. That's a little overpriced considering the sandwich was small and the steak was under-seasoned, but it was helped by the caramelized onions and the au jus.
There are only five other sandwiches, including the George Post Burger ($9) and grilled chicken caesar wrap ($9). All are standard options for a hotel restaurant.
The Post also has seven, seemingly random dinner-only entrees–the Guinness short ribs and the fettuccini del mar are examples–but I figured the likelihood of any non-hotel guest eating dinner here when some of the city's best restaurants are within a block was slim at best.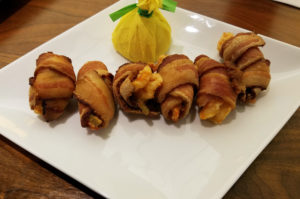 I did try a bunch of the appetizers, in case you're stopping by for drinks after work at the huge bar that takes up half the space.
What caught my eye while perusing this portion of the menu was the bacon jam on the pulled pork sliders (three for $9). The bacon jam turned out to be milder in flavor than I expected, and the pork was pretty dry.
Much better was the empanada (two for $9), which has a flaky shell with moist, tender Argentinian beef inside. It's got a lot of flavor and doesn't require the super oily chimichurri sauce.
The final item I tried was the Corpus shrimp ($12). The really salty bacon in which it's wrapped is fried to a crisp, and the shrimp was a little tough. The shriveled slice of jalapeno inside seemed out of place, and some kind of dipping sauce was needed.
The Post serves breakfast, lunch and dinner every day, plus brunch on the weekends.
***
See more photos in our The Post Flickr album.