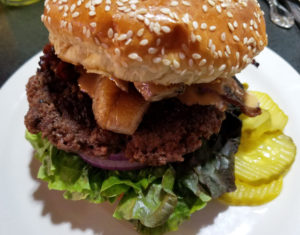 I was expecting greater things from Kickers in Wisconsin Dells, given that its sister restaurants, Moose Jaw and Buffalo Phil's, are well-established. But Kickers is a restaurant that needs focus. It tries to appease sports fans, groups and families, all with a fairly average menu.
For example, I wouldn't watch a game here. There aren't that many TVs, and some of the vantage points would force you to be sitting among the other diners, which means half your table couldn't see the TV.
The menu has the expected burgers, sandwiches, pizzas and entrees. The pricey Buffalo chicken wrap ($12.99) is fairly standard, except it came in a better-than-expected wheat tortilla. You'll find lots of lettuce inside, but fortunately not so much that it drowned out the chicken.
The only soup on the menu is chicken dumpling ($4.59). In it were giant chunks of chicken that needed to be broken up, and I think I only got three pieces of dumpling.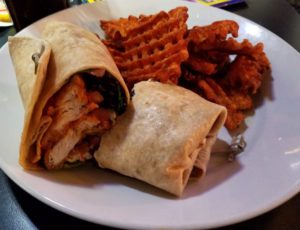 One unique item on the menu was the Elvis burger ($14.99), and I liked its components. The peanut butter was creamy, but there was only a small smear of it. The bananas added a complementary sweet flavor and soft texture to the crispy bacon.
I checked out the weekend-only buffet ($10.99), but it didn't appeal to me. It was mostly pizza, with broasted chicken, mac & cheese and some unappetizing pasta, among the dishes.
I do want to mention a service issue. We had a waitress who was very slow, forgetful and seemingly disheveled. It took her nearly 10 min. to make her first visit to our table, she gave our table only one straw instead of four, she left the soup sitting on the counter for almost 20 min. (so it was luke warm) and she didn't bother to get our food for 45 min. Fortunately, a manager soon learned of our troubles, and he gave us a 20 percent discount.
Still, I don't plan on making a return, and with so many better restaurants in the area, you should go somewhere else, too.
Kickers is open every day for lunch and dinner.