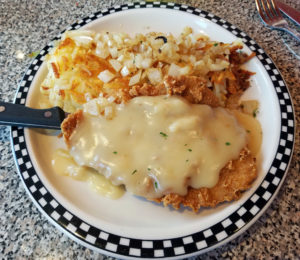 Following its Sun Prairie location, Gus's Diner opened a second restaurant this past May in Verona in a rapidly growing commercial section along East Verona Avenue.
In other reviews, I've negatively described some foods as diner-quality. That's because many times diners sacrifice quality for speed and price. Fortunately, that's not the case here. One example is the delightful crispy chicken wrap ($9.99). It's stuffed with crispy, juicy chicken instead of filler ingredients, plus the wrap wasn't soggy nor had it been sitting in a fridge all day.
Except for the waffles, breakfast is served all day. You'll find classics such as steak (ribeye, country-fried, sirloin) and eggs, French toast, scramblers and skillets. I tried the waffle combo ($9.29), which comes with two eggs and either three strips of bacon or sausage links. The large waffle had a gentle touch of sweetness to it, and it was quite filling. By the way, 3 p.m. is the cut-off time to order waffles.
Two pages of the large menu are dedicated to sandwiches, burgers and wraps. A new item is the Wisconsin cheese curd burger ($10.49), which doesn't need any explanation. On a future visit, I'll probably get the Brooklyn ($11.99), a burger topped with corned beef, sauerkraut and swiss cheese inside grilled marble rye.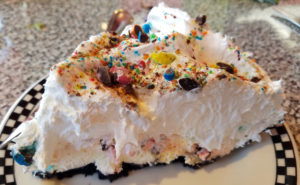 Our server said dinner entrees also are served all day, which was somewhat surprising, as I doubt many people want to eat salmon or chicken alfredo in the morning. I couldn't resist ordering the chicken fried chicken ($10.99), and it didn't disappoint. The breading had a tasty seasoning, the chicken was moist and the gravy was a perfect complement.
What's a diner without sweets? The Oreo cookie shake ($4.49) was well-crafted; other flavors include mocha, butterscotch and root beer. Meanwhile, you'll find an assortment of pies. The one that caught my eye was the M&M cream pie ($2.99), which was fluffy and decadent.
Gus's Diner serves breakfast and lunch every day and dinner Tuesday-Sunday.
***
See more photos in our Gus's Diner Flickr album.