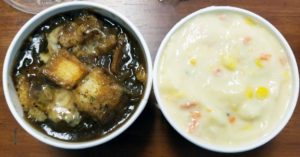 Zoup!, located in Greenway Station, really does serve some outstanding soup. In fact, I wish there were more locations of this national chain in Madison so that I could have more convenient access to the soups.
Apparently, there are "hundreds" of recipes, according to the menu, but 12 soups are available any given day. They come in five sizes, from side (8 oz.) to XL (32 oz.), and range in price from approximately $4-$12, depending on the soup.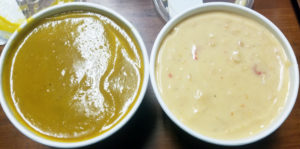 I was impressed with the Pumpkin Pie Bisque ($5.25 for a cup) because it's true to its name. It's pureed pumpkin with brown sugar, cinnamon, ginger and nutmeg and tastes just like the pie. In other words, imagine putting a pumpkin pie in a blender until it liquefied–that's this soup.
Lobster bisque ($6.75 for a cup) is in my top three of favorite soups, so I had to try it at Zoup! Here, it's much creamier than the average, and there was more crawfish by far than lobster. Still, the seasoning was spot on, and it made for a good dip for the accompanying bread (your choice of French, multigrain or sourdough).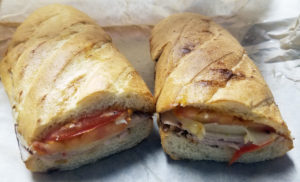 My No. 1 is French onion soup, and Zoup!'s version ($4.50 for 8 oz.) did not disappoint. It was very thick (instead of that watery crap other restaurants serve), had the right amount of salt and the onions were soft and tender, as they should be.
The corn and crab chowder ($5.25 for 8 oz.) is hearty, though it had too much potato and not enough crab or red peppers. I think I would have enjoyed it more if I had some hot sauce to go with this. Warning: this soup is high in calories, as each 8 oz. serving has a whopping 440 calories.
I skipped the few salads and tried some of the sandwiches. The albacore tuna sandwich ($5.75 for a half) was light, and that's because the tuna salad barely had any mayo, and the lettuce, tomato and capers don't contribute to the flavor, obviously.
Meanwhile, the Southwest turkey ($7.75 for a whole) is fairly standard in terms of taste and appeal. It's definitely helped by the chipotle mayo, which offers a little spice and flavor to the turkey, pepper jack cheese, tomato and toasted French bread. Guess I'll stick to the soups from now on.
Zoup! is open every day for lunch and dinner.