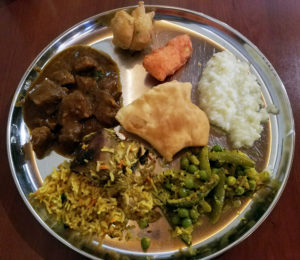 OM Indian Fusion Cuisine, located in an old strip mall on the east side, features South Indian and Indo-Chinese cuisines through both a buffet and menu ordering.
Speaking of the menu, it's huge–for example, you'll find 12 varieties of bread alone. As a result, OM has many items not found at other Indian restaurants, but the quality wasn't consistent. For example:
The peas in the tindora poriyal (sauteed vegetable medley) were quite undercooked, some hurting my teeth because they were like pebbles. At least the tindora (gourds) were tender and tasty, with a good balance of cumin and coriander.
Dosa (a type of pancake) is brought around by the waitstaff, and it was less enjoyable than it could have been because it had a cracker-like consistency.
The rice ball was dense and very dry. You'll need a lot of sauce to get through it.
The spices in the biryani ($14.95 with chicken) are very fragrant, but unfortunately, the well-seasoned chicken wasn't juicy at all.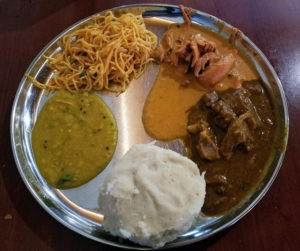 That said, you will find some better-prepared items:
Mysore bonda is a fried dumpling with no meat or veggies inside. It has a hint of flavor from the scallions and its doughiness absorbs sauces well.
Tandoori bhaji is like a fritter. OM's version is heavy on the breading and contains a soft slice of plantain (instead of the traditional onion). It would have been better with a side of mint chutney.
The curry goat is tender and has a hint of heat. Watch out for the bits of bone in the goat or you'll likely crack a tooth.
The curry chicken also is tender, though the sauce seemed milder than the goat version.
The pongal ($9.95), made of mashed rice, ghee, ginger, cumin and lentils, was more flavorful than it appears. Still, I'm glad I tried it as part of the buffet ($10.95), because it's overpriced as a menu item.
The arrabita spaghetti ($13.95), part of the fusion portion of the menu, surprised me as a menu item. However, I really enjoyed it, as it's noodles tossed with chili flakes (and some oil, it seemed) with a tiny bit of tomato sauce.
OM Indian Fusion Cuisine is open Wednesday-Monday for lunch and dinner. It also has a bar area, though OM doesn't seem like a place you would have a drink.