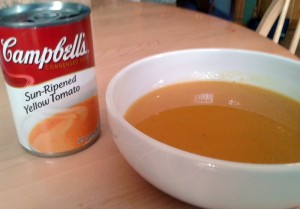 I love tomato soup, so I was excited when Campbell's invited me to try its new Sun-Ripened Yellow Tomato Soup. It's interesting that Campbell's didn't modify its original tomato soup, created back in 1897, until last year, when the Harvest Orange Tomato Soup came out.
This version is a bit milder than the original–which may lure people who don't normally like tomato soup–and accented with seasonings such as thyme. Indeed, I was pleasantly surprised by the flavor–it's a nice ensemble of ingredients.
For those who don't like to eat soup on its own, try it with a grilled cheese sandwich. Campbell's recommends using sharp cheddar, pesto and onions. I replaced the onions with sliced jalapenos, and the sandwich was a perfect complement to the soup (yes, I dipped it!).
With the inevitable Thanksgiving leftovers coming up, I'm thinking you could have a nice meal consisting of a turkey sandwich and some tomato soup.
The point is, the Sun-Ripened Yellow Tomato Soup is versatile and definitely worth a try.