I have to applaud Mexico Lindo. It's been open since September 2010 in the space formerly occupied by Steak 'n Shake on the east side. The bright green and red paint job on the outside screams tacky, and diners have the more established Laredo's not too far away. Still, it continues to battle on in the sea of chain restaurants that represents the east side.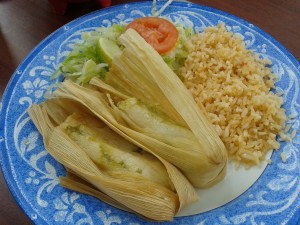 On a Saturday lunch my dining partner and I were the only patrons. Our waitress also did prep work to help the chef, so we didn't see her as often as we'd like (e.g. to get the check). Still, she and the chef (he actually rang me up at the end) were very nice.
The requisite chips and salsa that came before the meal were okay. I prefer freshly cooked tortilla chips to the ones I was served, but at least the delicious salsa made up for it. Despite it being "mild," there was still a nice kick to it. You also can order cheese nachos, guacamole and chips or chips and salsa sampler, each for $4.99.
Lunch items cost $6.50 each and come with Mexican rice and salad, although it was really just some shredded lettuce and one small slice of tomato. The tamales (with pork) I ordered were moist and tender–they were just a bit small, though. Other lunch items include enchiladas, a burrito, fajitas and mole poblano.
I also tried the steak tacos ($2.50), chicken tacos ($2.50) and the steak tostada ($1.99) from the a la carte menu. I didn't like that the steak and chicken were shredded into such small pieces; I think chunks would have been better. The tostada was crisp and tasty.
The bakery area had doughnuts, Mexican cookies, tres leches cakes and some other items I couldn't identify.
Mexico Lindo is open every day for breakfast, lunch, dinner and carryout. It's also open for late-night Thursday-Saturday, and my waitress said the restaurant also delivers.