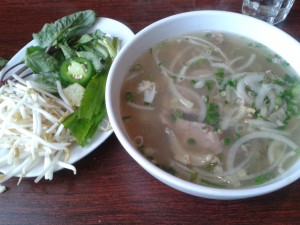 If you've not familiar with pho (pronounced "fa" or "fuh"), it's a Vietnamese noodle soup that's usually served with beef. Since it's in the name of the restaurant, Pho Nam, I of course had to order it.
I've enjoyed pho at Nam's Noodle and Wah Kee, so the version at Pho Nam had a lot to live up to. It comes with the requisite side dish of bean sprouts, lime, jalapenos and basil. I ordered mine with beef and tendons ($8.75); other variations include chicken ($7.95), beef meatballs ($8.25) and House Deluxe ($8.95).
On first taste, the broth is much more flavorful than its two counterparts; in fact, I was hesitant to add sriracha as to not disturb the taste.  I also appreciated the generous portion of noodles. What I didn't like was the sliced onions (not found in the other versions), and I felt the restaurant skimped a bit on the beef and tendons. Would I order it again? Sure.
The stir fried egg noodle with beef ($8.75) was a disappointment. It was a mixture of about 70 percent vegetables, 20 percent noodles and 10 percent beef. What little noodle that was there was good. I just wish they made it like Nam's Noodles does–that is the gold standard in my opinion.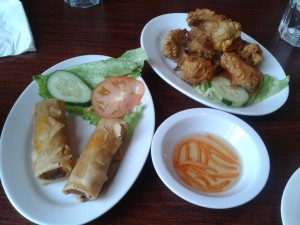 For the appetizers, I tried the chicken wings (six for $4.25; eh, why not?), which were decent, and the Vietnamese egg rolls ($2.95), which were delicious, albeit tiny.
The rest of the menu consists of non-pho soups such as wonton ($7.25); rice dishes such as grilled pork chops ($7.95); and vegetarian dishes. I didn't notice the bahn mi sandwiches on the menu until it was too late; they are hidden in the bottom right corner like an afterthought.
Pho Nam is open Tuesdays-Sundays for lunch and dinner.
Tags: far west, Vietnamese