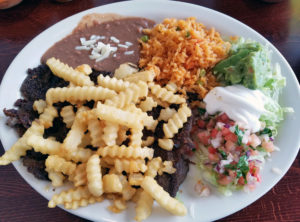 There is no shortage of Mexican restaurants in Middleton and Madison's far west side. Joining the mix this summer in the intersection of the two areas is Compadres Mexican Restaurant, a decent entry into the crowded market but without any distinguishing features.
The layout of the restaurant is odd. As you enter the building, you walk into a wide room with a large bar and a few tables, making you think, "This is it?" But then the hostess will you take you around the back, where the actual (but still small) dining room is.
The menu, not surprisingly, is divided into the usual sections, such as burritos and fajitas. You can skip the Signature Dishes, as they're basically the same items found elsewhere on the menu, just at a different price.
Among the appetizers, I had to get the one named For Avocado Lovers! ($6.49). This individually portioned dish is super fresh and bright, with bits of shrimp, diced tomatoes and diced onions over ripe and creamy avocado, all tied together with a little lime juice.
The sopes ($3.25 vegetarian, $3.50 with choice of meat) seemed like it could have been an appetizer, but instead, it was slotted under Traditional Plates. The thick portion of tortilla was slightly tough and difficult to cut. At least the chorizo was very tasty, and I wish there was more of it, since neither the queso fresco nor the sour cream added much to the overall flavor.
From the Mexican Traditional sectional, I tried the milanesa ($10.49 with chicken or steak). I chose the steak, which is tenderized flat and breaded like a pork chop with the right amount of seasoning. It is delicious on its own or with the accompanying tortillas as a pseudo taco. The accompanying fries seemed out of place for this dish.
Among the short selection of seafood items, the camarones a la diabla ($13.49) caught my eye. The shrimp was a bit overcooked, and the chipotle seasoning adds flavor, not heat. I really enjoyed the oily, garlicky sauce, which the Mexican rice sopped up nicely.
Compadres Mexican Restaurant is open every day for lunch and dinner.
***
See more photos in our Compadres Mexican Restaurant Flickr album.