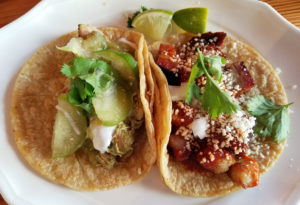 It's hard to disagree with Food Fight's description of Canteen as a "vibrant, fast-paced taqueria." In fact, it's even different enough from Tex Tubb's and Eldorado–other restaurants in Food Fight's vast portfolio–as well as other taquerias in town.
Canteen has a fairly robust selection of tacos, which are served a la carte. The green chile chicken ($3) draws a lot of its flavor from the serrano salsa and crema, both of which truly complement the tender, moist chicken. The slices of roasted tomatillo were a pleasant surprise.
Meanwhile, the pork belly tacos ($3.50) are now my favorite in town. The chunks of pork belly are slightly crispy on the outside and melt-in-your mouth tender on the inside. They are coated in a wonderful guajillo chile sauce that resembles mole in flavor.
The few entrees at Canteen include enchiladas ($10) and torta ($12). The Tijuana salad ($9) is a fresh mix of romaine lettuce, red cabbage and toasted seeds, among other ingredients. I wish there was more of the anchovy dressing, which was not too salty. I added Tecate-battered cod for $4, and the small pieces were very mild in taste.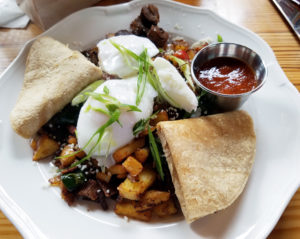 I mentioned in a previous blog post that because of the prevalence of brunch in Madison, restaurants need to make their offerings more and more unique. Here, what's unique is the time in which brunch is served: Saturday, Sunday and Friday. This menu has just five items. The brisket burnt ends hash ($11) wasn't perfect: the brisket was a bit chewy, the poached eggs were overcooked, and the mix of potatoes, bell peppers and cojita cheese was bland enough that I relied heavily on the hot sauces (especially the mango) on the table.
The free order of duritos ($1 after your first bag) to start your meal was a nice touch. The puffed wagon wheels really absorbed the lime and tajin flavors, and they're enjoyable to munch while sipping on a cocktail or margarita.
Canteen serves lunch and dinner every day and brunch Friday-Sunday.
***
See more photos in our Canteen Flickr album.