Other than the fact they are both on the water, the Port Restaurant & Lounge and Dockside Grill & Rum Bar are drastically different restaurants in Wisconsin Dells. Both have some good qualities, but I would only return to Dockside.
The Port is in a quiet, wooded area overlooking Mirror Lake, although the view is not as good as Ishnala's. The Green Owl was the previous occupant of the run-down building. In fact, you should sit outside. If you can't get a table, the big outdoor bar is a nice hangout, especially for locals.
Sadly, that outdoor bar is really the best feature. The BBQ ribs ($15.95 half rack, $20.95 full rack) were super tough, virtually uncuttable by a butter knife. Meanwhile, the ribeye that I ordered medium-rare was served medium-well yet had not outer char (so it looked under-cooked on the outside).
The Parmesan-crusted cod ($11.95)–deep-fried fish is surprisingly not on the menu–was decent, helped by the garlic butter seasoning. The rest of the one-page menu has mostly standard items, with the exceptions being ham hocks and roast duck. I would have ordered both of them, but the server warned me they were going to take a long time to prepare.
The Port Restaurant & Lounge is open every day during the season for lunch and dinner.
***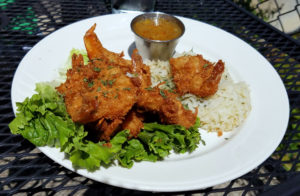 By contrast, Dockside is in the middle of the action, at the intersection of Wisconsin Dells Parkway and Highway 23 (Broadway), overlooking the dam in Lake Delton.
This is the place for tropical drinks. I enjoyed my mojito ($7.75) and caipirinha ($7.75) for their fresh flavors and good strength. Other cocktails include the Mai Tai ($7.75) and Rumbo ($7.75).
The menu is not tropical themed, other than the coconut shrimp ($16.99), which I ordered. I appreciated that they were not overly battered so you could still taste the big pieces of shrimp. It seemed odd that I was given seven shrimp–was that one extra or one too few?
The steak & gorgonzola wrap ($10.99) included large but tender chunks of steak, as well as caramelized onions, making the wrap quite enjoyable. The patty in my burger was over-cooked, but it was saved by the buttery-grilled bun.
Dockside Grill & Rum Bar is open every day for lunch and dinner but is not open late as a bar.
See more photos in our Dockside Grill & Rum Bar Flickr album.
Tags: American, Lake Delton, Wisconsin Dells