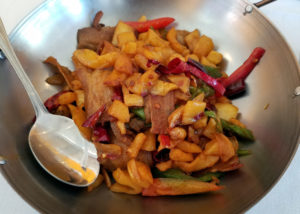 There is no shortage of Asian cuisine on South Park Street, and new to the arena is Chili King. It replaces the short-lived Angkor-wat, which replaced Inka Heritage.
Chili King has an enormously long menu, spanning cold and hot appetizers, rice dishes, noodle dishes, various types of entrees, "famous sauteed," lunch specials and even sushi. My normal tactic is to try a cross-section, and here is what I have to report:
"American" appetizers include egg rolls and crab rangoon. The other apps, such as the sliced pork stomach ($7.99), are typically not found on an Americanized Chinese menu. The strips of pork stomach weren't too chewy but essentially had no flavor other than the bit of chili sauce on top, so you may need to add more sauce like soy sauce. The portion size is enough to feed 2-3 people with an entrée.
I didn't expect the lamb with fish in creamy sauce ($14.99) to be served as a soup. Fortunately, you get a generous portion of both–the lamb came in bite-sized pieces, and the fish was very tender and absorbed some of the broth flavor well. Other similarly categorized entrees include the hot & spicy solo fish fillet ($13.99) and dried string bean with pork ($11.99).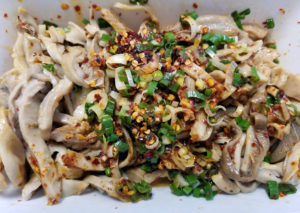 The Singapore noodles ($13.45) is a heaping plate of noodles with the right amount of curry seasoning, plus giant chunks of chicken, lots of shrimp and an over-abundance of vegetables. It's good as-is and even better with a little Sriracha on top.
You will find a section of the menu called "boiled/casserole" comprised of hot pots. I tried a dry pot instead; specifically, the turnip & twice-cooked pork dry pot ($15.99). A pleasant surprise, the pork came in the form of thinly sliced pork belly, mixed with both crunchy and tender vegetables. I appreciated the perfect amount in of heat from the chili peppers.
Of note, there is a fairly extensive array of vegetarian dishes as well.
Chili King is open every day for lunch, dinner and carryout. Delivery is available.
Tags: Chinese, south side