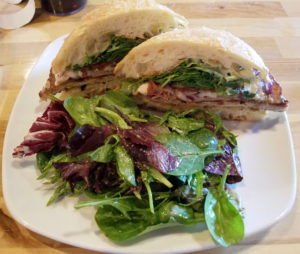 To say Off Broadway Drafthouse is an upgrade from the preceding South Bay Lounge is an understatement. The new incarnation that opened last May is cleaner, more restaurant-like than dive bar and has much better food. If you find yourself near South Towne Mall for some reason, it's worth a visit.
There's a nice variety of sandwiches on the menu. The War Pig ($11) has a lot of flavor, starting with the moist pork chop, followed by the crispy bacon, the lightly grilled ham and the slightly tangy aioli. Next time I may try the Egg Salad Angelique ($9).
On Fridays, the fish fry is a must. Your choices are walleye, cod, blue gill and lake perch. The blue gill ($14) is fresh, moist and perfectly crispy on the outside. It didn't need any lemon or dipping sauce, yet I still used the homemade tartar, which was so good–it's basically an aioli–that I was dipping my fries in it. The accompanying cole slaw is creamy, and the corn bread was served cold (I prefer warm).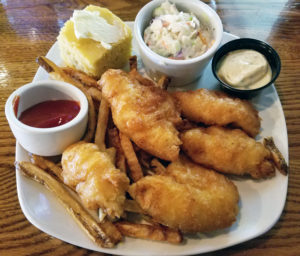 The Royal House Salad ($9) is tossed with a citrus vinaigrette and has a nice mix of veggies, with added crunch from the various nuts. The added grilled chicken was tender.
The Airway Chicken Wings ($10) were juicy, and the spice rub is primarily a smoky paprika. Like the fish, you won't need any dipping sauce with them. Other "shares" include Drafthouse mussels ($12) and house spiced nuts ($5).
The rest of the menu is comprised of entrees such as the herb-roasted game hen ($13) and "game day bites" such as butter fat popcorn ($4).
Off Broadway Drafthouse is open Tuesday-Sunday for lunch and dinner, and it serves brunch on the weekends.
Tags: American, south side