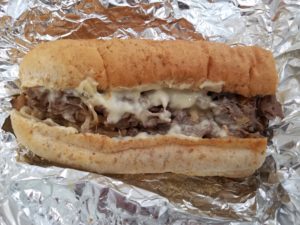 As the name implies, Jersey Mike's is a New Jersey-based sub shop, and it recently made its way to Greenway Station. For reference, Jersey Mike's most closely resembles Cousins Subs, featuring hot and cold subs on fresh-baked bread.
Let's start with the hot subs. The chipotle cheese steak ($7.45) is your quintessential Philly cheese steak with a faint hint of chipotle flavor. The steak was slightly tough, but it had enough melty cheese, sauteed onions and sauteed peppers to soften it up. If you choose the wheat bread, you should know that it's sturdy, but as a result, it's a little tough, too.
The pastrami reuben ($7.35) was sorely lacking thousand island, but all the other expected components and flavors were there. I appreciated the generous portion of thinly sliced pastrami, and it worked well on white bread instead of rye. Other hot subs include BBQ beef, bacon ranch chicken cheese steak, and meatball and cheese.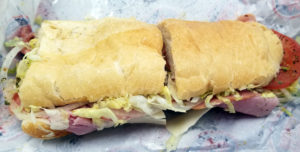 If you're trying to pick a cold sub, let me suggest Jersey's Shore Favorite ($6.55), which has a thick layer of ham and cappacuolo. I got it "Mike's way," meaning onions, tomatoes, seasoning, vinegar and oil, on white, which was much softer than the wheat bread. Other than the fact that you'll need 2-3 napkins to eat this, I really enjoyed the fresh and Italian flavors of this sub. Tuna, BLT and roast beef are other choices in this section of the menu.
I probably won't order any more wraps. The contents are good–I enjoyed the meaty, juicy buffalo chicken ($7.45)–it's the wraps themselves with which I have the issue. The tortilla–you get your choice of white, wheat or tomato basil–is way too big and seemingly quadruple wrapped; in fact, many bites, you're only eating wrap.
You should note that you're not going to get your food as quickly as a Subway or Silver Mine–hence why the line is usually to the door–but it's the trade-off for freshly cooked ingredients (e.g. they saute the steak on the spot). It's too bad the restaurant didn't think to make a waiting area.
Jersey Mike's is open every day for lunch and dinner.