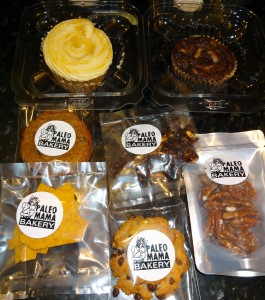 Is Paleo another diet fad? Not according to Belle Pleva, founder of the newly opened Paleo Mama Bakery, who told me that at least some aspect of it (e.g. avoiding processed foods) will endure.
You can find endless stories of how the Paleo lifestyle–which consists primarily of consuming fresh fruits, vegetables, grass-fed meat, poultry, eggs, fish, seafood and nuts–have improved the health of its followers. Belle is no exception–she is now med-free and symptom-free from her auto-immune disease with which she was diagnosed several years ago.
Belle let me sample several of her desserts and snacks, all of which are free from grains, gluten, soy and refined sugar. In summary, I thought her products were delicious and near-replicas of their non-Paleo counterparts, though be prepared for higher prices as a result of using hard-to-find ingredients (e.g. coconut flour).
Take for example the carrot and orange cupcake ($12.99 for four). The pure honey leads a parade of flavors that also include organic oranges and Chinese five spice. I couldn't even tell the different between normal flour and coconut flour, as used in this recipe.
You can immediately taste the banana in the chocolate banana bread muffin ($11.99 for four), although the chocolate was a bit more subtle. Still, this super moist muffin seemed like "the real thing."
I enjoyed the two cookies I tried, even with the slightly grittier texture. The oatmeal cookies ($11.99 for eight) are made with almond flour, unsweetened coconuts and flax seeds, among other ingredients, and the chocolate chip cookies ($11.99 for eight) have both almond flour and coconut flour.
The candied pecans ($12.99 for 8 oz.) are sweet and addicting, thanks to the coating of pure honey and organic cinnamon. Another satisfying snack is the chocolate granola ($11.99 for 8 oz.). It contains walnuts, almonds, pistachios, bits of semi-sweet chocolate and too-tart-for-me cherries.
One non-sweet item graces the menu, and that's the spicy tortilla chips ($8.99 for 4 oz.), which uses–what else?–almond flour as its base ingredient, and it's seasoned with several organic spices, including cayenne and turmeric. If you can get over the fact that these chips are more wafer-like instead of crunchy, they can readily be inserted into your snack rotation.
Paleo Mama Bakery operates out of New Self Renewal Center, 6300 Enterprise Ln. Currently, you must order your baked goods at least 24 hours in advance.