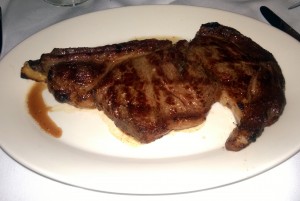 The area where State Street and Mifflin Street converge is home to a growing restaurant empire that consists of the Ivory Room, Capital Tap Haus, Buck and Badger and now Rare Steakhouse. The owners did a beautiful job of renovating the space, as seen by its mahogany interior and atmosphere of elegance without pretentiousness.
All steaks are dry-aged for up to a month in the state's only in-house dry-aging cooler. I know this because our head waiter during a dinner talked our ear off and went into excruciating detail about everything. Fortunately, that was the only negative aspect of the restaurant.
I was impressed with the selection of appetizers, but the one I want to feature is the PB&J ($20), a plate of foie gras and port black currant jelly in mini jars with a (small) side of French bread. This was a highly decadent dish, with all the ingredients complementing each other's flavors (salty, sweet and tart)–an excellent way to wake your taste buds.
That brings me to the steaks. I tried both the 6-oz. filet ($23) and the 16-oz bone-in ribeye ($46). As expected, the dry-aging unlocks a different type of meat–much beefier in flavor and of course more tender. While enjoyable, the steaks were a bit under-seasoned.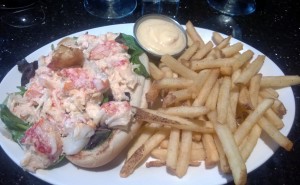 Other entrees include chicken, lamb and seafood.
All entrees are served a la carte. Sides include duck frites ($8) and twice-baked sweet potato ($10). I recommend the BLT Mac ($12) because of its delicious blend of cheeses and added bacon (no lettuce, luckily).
If you still have room, get the bananas foster ($10) for dessert. It's prepared table side. The bananas are cut into coins instead of length-wise, which seems to allow them to soak up more flavor.
Rare also serves lunch. The Prime burger ($15), topped with bleu cheese, carmelized onions and horseradish, was super flavorful and juicy. I also was a fan of the lobster roll ($16), with its generous chunks of lobster meat. Meanwhile, the French onion soup ($9) was unexpectedly filling and sweet.
Rare serves dinner Monday-Saturday and lunch Monday-Friday. It also has outdoor seating, which seems a bit out of place.
***
See more photos in our Rare Steakhouse Flickr album.
Tags: downtown, steakhouse