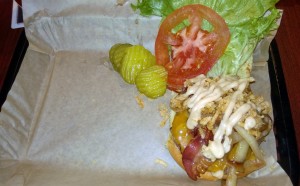 Before I walked into Brews Brothers Pub located on the far west side on Junction Road, I was envisioning a huge space, a comprehensive menu and walls filled with TVs. I was wrong on all accounts.
However, sitting in the recently opened establishment, I realized it's similar to many strip-mall restaurants/bars I've visited in smaller cities and suburbs, and if you keep that in mind, the place meets all expectations.
Capacity is only 80, the bar only serves beer and wine and really the only items on the two-sided menu are burgers. Let's start with the Brothers' Original Burger ($5.39). It's pretty plain, but the nice thing is you can add some "extras,"  such a fried egg (49 cents), a brat patty ($1.79) or even pulled pork ($1.29).
The other 11 burgers, all made with 4.5-oz patties, have more excitement to them. The Weston Burger ($6.89) comes with bacon, cheese and BBQ sauce. The bacon was some of the best I've had on a burger, but the sauce was too tangy. Next time, I think I'll try the Philly Cheese Burger ($6.39), which includes grilled peppers, onions and provolone cheese.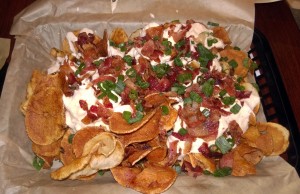 The special of the day was too tempting to resist. Called the Bourbon Burger ($6.39), it was topped with bacon, cheese, onion straws and a bourbon mayo. Again, the bacon was awesome, and I adored the slightly sweet mayo on this overall satisfying sandwich.
All burgers are served a la carte (hence the empty-looking basket in the photo above). Side choices are fries, chips, shoestring fries and sweet potato fries. I had an order of hand-cut fries ($2.39), which were a little soggy. I would have enjoyed dipping them into bourbon mayo if that was available.
A larger side item is Pub Grub ($5.29), consisting of hand-cut chips topped with beer cheese, chopped bacon and chives. Super delicious, but the cheese could have been more melty to make it easier to spread around the plate; instead, the cheese had solidified into several large clumps.
Regarding the beer, you have two pages of beers on tap, available in pints and 20-oz glasses, from which to choose. The beers come from all over the country. For reference, I had the New Belgium Snapshot ($6 pint), the Boulder Nitro Shake ($5) and the 3 Sheeps Baaad Boy ($6).
Brews Brothers is open every day for lunch and dinner, and it has happy hour from 4-7 p.m.
***
See more photos on our Brews Brothers Flickr set.