The highly visible High Rock Cafe in downtown Wisconsin Dells is a smart choice for those seeking a slightly more upscale dining experience than typical restaurants in the area. Although I've eaten here before, I was invited to learn more about the restaurant through the eyes of co-owner and chef Wade Bernander. High Rock has evolved from a summer-only,  second-floor restaurant back in 2004 to a year-round, two-story mainstay of the Dells today.
For appetizers, you can't go wrong with the jumbo lump crab cakes ($13), topped with an absolutely amazing remoulade (I told Wade to put this on a Po' Boy sandwich), and the Gilly Goat ($9), a harmony of garlic, goat cheese and diced peppers that layered and smeared nicely on a baguette. It was certainly worth the subsequent garlic breath I gained.
As much as I liked that remoulade, I enjoyed the sherry sage cream sauce that topped the Sebastian (Lobster) Ravioli ($15) even more. Man, they are good with sauces here. In fact, my only disappointment with the entire meal was that there wasn't enough demi-glace with the otherwise perfect root beer short ribs ($22). I liked the runny egg with this dish, and I give it an A+ for presentation.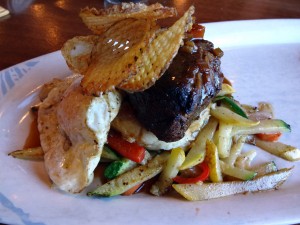 On to dessert. The Kissel soup was an adventure. I could certainly taste the tart cranberries and powerful pickled ginger, but both were tempered nicely by the vanilla ice cream. I also had a double chocolate brownie ($6) with a side of spiced nuts. Interestingly, I enjoyed eating them together,  even though I normally dislike brownies with nuts. Wade also doesn't like brownies with nuts, which is why he created the dish this way.
I should note that a few of the items I ate came from the "season's freshest" menu, which changes every month to take advantage of the seasonal bounties.
To wash down this extraordinary meal, I was served a basil mango margarita ($8). I was impressed by how fresh this drink tasted, with its balanced mango and basil flavors. The full bar has an excellent selection of martinis as well.
High Rock Cafe is open seven days a week year round. You can find street parking nearby.
***
See more photos of my meal on my High Rock Cafe Flickr set.
Tags: Wisconsin Dells