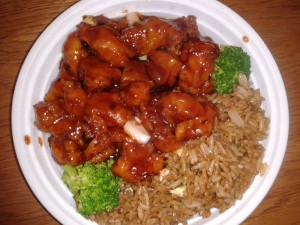 Not too many restaurants put out their external signage months before they open, but Szechuan Carry Out did, which made it confusing when it actually was finally open for business (which was at the end of last year). There's really nothing on the menu that distinguishes itself from any other Chinese carry-out place, so I decided to order some staples of these restaurants.
The lunch-sized General Tso's Chicken ($5.35) was surprisingly good, in that there was the right amount of breading, a slight crunch as you bite in and a nice, thick sauce to accompany it. (The worst is when you get a barely breaded, chewy chicken in a watery sauce.)
The lunch-sized Kung Bo Pork ($5.35) was a disappointment. For one, it wasn't the least bit spicy. I also didn't like that it had an endless amount of vegetables and peanuts and so little pork.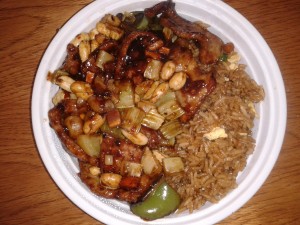 I should also add that the fried rice that comes with the lunch specials was tasty–it's sprinkled with pieces of egg instead of pork and didn't have any scallions.
The eight-piece crab rangoon ($4.95) differed from every other Chinese restaurant's version in that it was onion-y, and I'm not sure I have an opinion either way on that break from the norm. At least it was a good portion for its price. Other appetizers include egg rolls ($3.50) and steamed dumplings ($4.95).
The rest of the menu consists of standards items such as House Special Low Mein ($6.25 pint, $9.35 quart), Mongolian Beef ($9.95) and Sweet & Sour Chicken ($8.25).
Szechaun Carry Out is open every day for lunch and dinner. It has a few tables inside, so you can eat in if you don't want to take your meal to go. Delivery also is available with a $50 order.