I remember enjoying meals at the previous incarnation of Luigi's, located where the Tipsy Cow is now. Thus, I was happy to hear that Food Fight had helped to resurrect it in its new location on Midvale Boulevard.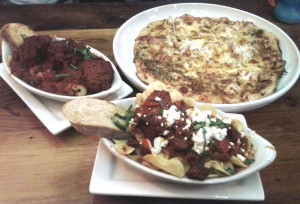 There are two major differences from Version 1. The first is that there is no wait service; instead, you order at the counter, and your food is brought to you. The other is that the menu has shifted from mainly pasta to mainly pizza.
That latter point was surprising to me. You'll find only four pasta dishes and a handful of sandwiches and salads. Meanwhile, almost an entire menu page is devoted to pizza, and it turns out, this is a good thing.
I tried the meatball pasta ($9.29), which came in a super boring tomato sauce and under-cooked corkscrew pasta. The sausage and pepper pasta ($9.29) was slightly better although it needed more sausage, and overall both pasta dishes were small in portion size.
My disappointment ended when I tried the chicken pizza ($8.79 for a 9-inch; add $4.50 for 14 inches). Caramelized onion, grilled chicken, mozzarella and goat cheese topped this really delicious pie. I realized that you get so much more flavor at less cost for the pizzas than the pasta. Go figure.
I'm looking forward to a return visit to try the Prosciutto and Arugala ($8.99) and the Bada Bing (bacon, white sauce, grilled asparagus and roasted mushrooms; $8.79) pizzas.
In addition to the menu, which is the same for lunch and dinner, Luigi's offers dinner specials Sunday-Wednesday.