You really can deep fry anything.
I stopped by Lucky's on Saturday afternoon to try a new menu item: Rocky Mountain oysters, aka bulls testicles. A basket of 10-15 with a side of fries is $5, or you can get all-you-can-eat (plus a T-shirt) for $20.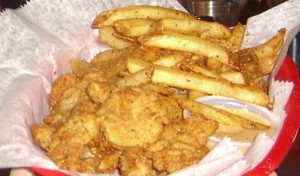 The challenge with trying non-mainstream foods is always the mental aspect (e.g. "I'm about to eat a bull ball.") Fortunately, I'm pretty open-minded, and the oysters were sliced and pounded flat so as to not to resemble a testicle. Oh, and they were breaded and deep fried!
I don't know how to accurately describe the taste–it was a beefy-chickeny flavor overwhelmed by the seasoned breading. Still, I was pleasantly surprised and proceeded to wolf down the rest in two minutes. I did this because Lucky's was having a Rocky Mountain oyster eating contest at 5 p.m., and I just wanted to gauge my potential speed (5-6/min). However, no contestants showed up, so the contest was postponed until 11 p.m., and I didn't return.
Oh well, the glory of being the Rocky Mountain oyster eating champion will just have to wait.