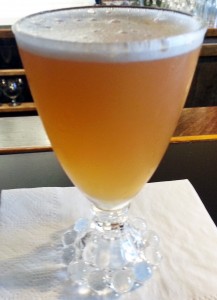 I've been drinking Chad Vogel's creative cocktails for years (example) and was looking forward to a visit to his bar on the near east side called The Robin Room, which opened in February.
Having visited many fine establishments in Chicago and New York City, I felt like I was visiting a neighborhood bar in one of those cities. That's because of the 20- and 30-something crowd, the refined yet completely unpretentious atmosphere and of course, the wonderfully crafted cocktails.
Pick your poison: The cocktail menu is separated by spirit. You'll have classics (e.g. Manhattans) along with the Robin Room's special creations from which to choose.
The Champs Elysee ($12) is comprised of cognac, green chartreuse and lemon. It comes in a small glass, but it's still a strong drink due to the 110-proof chartreuse.  Speaking of chartreuse, you usually find it paired with gin because of its botanical-ness, but it seemed to work well with the cognac.
The Royal Bermuda Yacht Club ($10) has La Favorite Rhum Agricole (which uses fresh sugar cane juice instead of molasses), lime, falernum (a sweet syrup) and dry curacao. The falernum added a nice sweetness to this refreshing beverage, which may remind you slightly of a pina colada.
The Vesper ($9), with its St. George vodka and gin and Lillet Blanc, is as elegant and smooth as a martini can be.
Emporium of Fine Potables: That's the tagline here. In addition to the lengthy cocktail list, you'll also find a big selection of tap beers and every type of cocktail glass among the shelves that display the impressive collection of spirits.
The Robin Room is open every day at 4 p.m. You'll find street parking in the surrounding neighborhood.