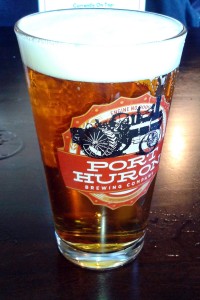 When the market gets too crowded, choose a different market. Madison has seen recently the expansion of Ale Asylum and the openings of One Barrel, Karben4 and House of Brews, so partially for that reason, Tanner and Solare Brethorst opened Port Huron Brewing Company in Wisconsin Dells.
Tanner, who serves as brewmaster, has an impressive resume, having worked at Tyranena, Lake Louie and Capital Brewery. Port Huron, named after a steam engine, opened late spring of 2012.
For $4, you can have the sampler platter of all five beers, and in my opinion, they're all easily quaff-able. Take the Oatmeal Stout, for instance. While it's described as "perfect for those cold winter days," this beer is just as enjoyable in the summer because of its sweetness.
I thought highly of the Honey Blonde Ale for its light and crisp taste, as well as the Porter for its roast-y flavor.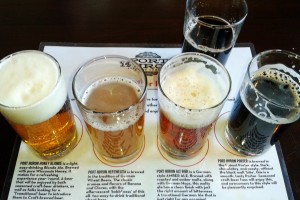 My two favorite beers, though, were the Hefeweizen, with its distinct note of banana and cloves, and the Amber Alt for its smooth and not-too-bitter finish. In the works is an IPA.
The tasting room at Port Huron is open on Fridays and Saturdays with free tours (look for the flux capacitor). Pint are $3.50 each (cash only), and currently popcorn and pretzels–both free–are the only food served.
In Madison, you can find the beers at The Old Fashioned, Sadhana Wine Shop, Star Liquor and Steve's Liquor.